The Wild Atlantic Way is the world's longest touring route through some of Ireland's most beautiful places, and is already proving a hit with travellers from Britain, the US, France and Germany.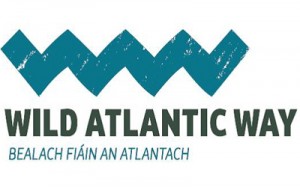 Among the Signature Discovery Points on the route are the spectacular Sliabh Liag sea cliffs, located on the edge of Glencolmcille parish.
The route offers the traveller a great amount to see and do including: over 500 Visitor Attractions; more than 1,500 activities to pursue; 580 festivals and events throughout the year; 17 trails and 50 looped walks; 53 Blue Flag beaches; and 120 Golf Courses including some of the best 'links' golf in the world.
Among the experiences the Wild Atantic Way offers are:
'Exploring on the Edge' – showcasing the unique landscapes and micro-climates of the west coast, its flora, fauna, caves and mines, incorporating activities such as whale and dolphin watching, exploring unique seascapes by boat as well as local food experiences.
'Culture at the Edge' – opening up Ireland's unique language, music and dance cultures, its unique Gaelic sports, traditional crafts, great festivals, island life ('island hopping'), legends and Folklore.
'Active on the edge' – promoting the west coast's great surfing locations, world class links courses, coastal walks, great sea and game angling and horse riding.
In essence, whatever activities or whatever length of route visitors wish to pursue, there is a personalised Wild Atlantic Way for everyone.
The complete 2,500km route from Malin Head in Donegal to the Old Head of Kinsale in Cork is completely signed with the distinctive Wild Atlantic way 'zig-zag'/chevron.
The Wild Atlantic Way also features 159 'Discovery Points' along the route. These points are distinct sites, large and small, each chosen for their potential to offer visitors an authentic and intimate experience of the natural and wild landscape and seascape. A Discovery Point is a viewing point at which the visitor can stop off along the route and learn more about that place by means of on-site information and interpretation.